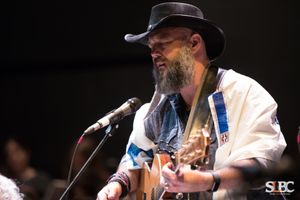 Shabbat, Concerts, Events, and More!
Artist in Residence Weekends
If you are looking to build a weekend of solid programming for your community, reach out about an Artist in Residence weekend! Joe will work with your community to build out an entire Shabbaton full of music, teaching, and prayer. He'll lead a Friday night Shabbat service to warm the soul, a Saturday discussion (with music) about the story of his conversion to Judaism, a Havdalah service followed by a community concert, and he'll spend Sunday morning singing songs with the young folks in your religious school. Got songleaders? Joe will work with them as well while he's there! Send us a note today on our contact page to start the conversation. 
Friday Night Shabbat Services
Bring Joe out to your community for a Friday night that will shake the dust off the week and have people smiling all the way into the weekend. Built on classic Americana and Country melodies, this service is a completely guided prayer experience designed to highlight the beauty of Shabbat. This service has traveled all over the country has been featured at retreats, conferences, and in every kind of community. So gather up for good times with a night of prayer, song, and sacred time together.
CONCERTS 
What do sanctuaries, backyards, JCC's, camps, conferences, arenas, and festivals have in common? They're all a good place for a little down-home, southern ground, good time music! Check out some of the offerings below and lets us know what you're looking for! 
Community Concerts 
Get ready to gather up for good times! Bring Joe out to your community for a night of original Jewish Americana and hear why he's been featured at conferences and in publications across the United States. This show brings together stories and music from his debut album, along with several songs from upcoming releases.  
House Concerts 
Your living room was made for live music! House concerts are very popular and a great way to connect. Gather up a few friends, pour some drinks, and gather 'round for a night of music right in your own home! Joe will work with you to create the perfect evening of good times with good friends. You're the host with the most!  
Festivals
People want to have a good time and that's what this artist is all about. Joe has performed at the Atlanta Jewish Music Festival, the Desert Gathering Music Festival, SXSHABBAT, Sprang Thang,The URJ Biennial, and many more.  
Camps, and More! 
No matter what the venue, Joe will bring everything he has to every show. Contact us our Contact Page above to start planning today!
Speaking Engagements
Choosing to be Chosen: What Seekers are Seeking
A seeker all his life, Joe found out that his wife was Jewish after 13 years of marriage and it changed everything. In this workshop/lecture, Joe tells the wild story of his conversion to Judaism and how the discovery of his wife's Jewish identity led their family on a journey of powerful change. He'll also discuss how the conversion process inspired his music and some of the reasons that large number of people are being drawn to Judaism. This workshop includes plenty of Q&A and a few songs from his album as well. This workshop is included as part of the Artist in Residence weekend or as a stand alone talk. 
What folks are saying
"Joe Buchanan is forging into the uncharted territory that is Judaic Americana music. Listen to the Jewish convert from Texas and you can hear the soul in every note he sings."  
 – The Atlanta Jewish Times
 "Joe has absorbed the essence of a wide breadth of styles that fall under Americana and, building on that great tradition, crafted amazing new works."
-Adrian Durlester, Hava Nashira Blog
"Joe Buchanan's music is as warm as the summer day is long."
– Russell Gottschalk, Founder, Atlanta Jewish Music Festival
"Joe Buchanan's roots and Americana-based songs gave us reflective and meaningful insights into Judaism and our religious journeys." 
 - Edward Queen, Director of Ethics and Servant Leadership at Emory University
"If you have not yet heard Joe Buchanan sing, you have got to make it a priority. He is absolutely amazing."
– Rabbi Royi Shaffin 
"Joe's album "Unbroken" touched my soul. It has helped me during difficult times."
– Rabbi Gaylia Rooks 
"Joe Buchanan is amazing! I was moved to tears by his story, and the music that he brings to life."
– Alison Roemer, Director of Education at The Temple
 "On such a high after a truly spiritually uplifting Shabbat service tonight led by special guest, Joe Buchanan. If you are looking for someone special to bring a new spark of inspiration to your community, no matter the denomination, I highly recommend him!"
- Shoshanna Schecter Shaffin, Executive Director at ALEPH Alliance for Jewish Renewal.
 "His melodies and words really resonated, touching the soul and making it a Shabbat to remember. "
– Jeff in Missouri City, TX
"Joe and his music really spoke to my soul. His passion for Judaism shines through his stories and songs!"
– Cathy in Raleigh, NC
"If you are looking to experience an authentic journey of faith, look no further than a Shabbat service with Joe. He has the rare talent of sharing the wisdom of finding his way home to Judaism while living "this one life" full of love and giving us his heart and soul." 
- Jason in Plantation, FL 
Drop us a line to get more info on Bookings
Do you Partner with the ISJL?