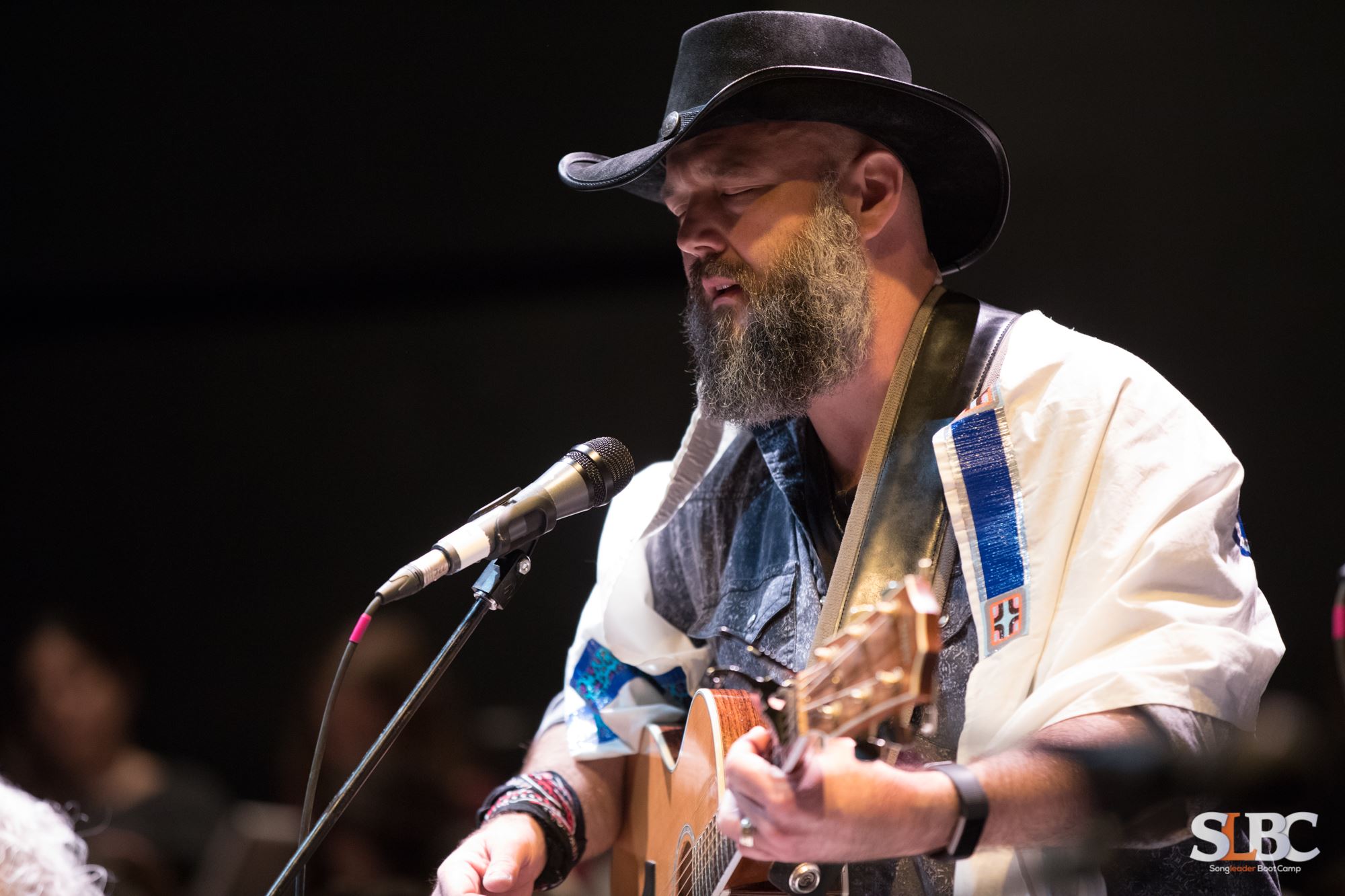 See that guitar that I'm holding? It's a beautiful instrument but it isn't mine. It's been played by a whole mess of folks but it isn't theirs, either. It belongs to a fella named Rick Recht. This year at SLBC, while I sat in the morning prayer service, I kept seeing something incredible. I watched Rick Recht hand his guitar to person after person and it dawned on me that this act was a perfect metaphor for the kind of person Rick is. 
For anyone who has been to the Songleader Bootcamp National Conference, you've seen this in a variety of ways. You see it at the lunch song sessions led by multiple folks, the courses taught by various experts, to the concerts at night and especially at SLBC Late Night (open mic). This concept of shared leadership is something that is not only important to SLBC - it is something SLBC is built on. 
When we take the time to engage from the stand point of "you can do THIS" and then help to support so that folks can, we find that we empower people in incredible ways. The leadership team at Songleader Boot Camp does this by demonstrating the value of leadership and then giving everyone the tools they need to lead themselves and to empower others to lead as well. It is called "Songleader" Boot Camp but the emphasis is definitely on the leader aspect. 
A common misconception is that you have to have some kind of musical ability to get anything out of the conference. Not true at all. In fact, music is only a small part of what is happening at SLBC, even though it is the bridge that binds it all together. I fell in love with this conference not because of the music but through it. At its heart, at the very core, is an abundant love of community, Judaism, and where we can go as a people. The folks who attend SLBC are usually looking for something they can bring home or into their lives, or both. Rabbis, Songleaders, Recording Artists, Teachers, Lay Leaders, Scholors, Rabbinic Students, Cantors, Camp Staff, Camp Directors, and ANYONE looking for something great to bring back to their world. When you fill a JCC with that many seekers, you are bound to find amazing things together. 
This was my 5th straight year at Songleader Boot Camp and the goodness I get from being with the community there lasts all year long. I learn beautiful Torah from inspiring Rabbis. I learn new melodies and connect to prayers in powerful ways. I meet new friends who are seekers as well and we grow together and I spend valuable time with colleagues and mentors. It's a place that not only opens a door, it holds the door for you and anyone else who wants to bring something amazing back home. 
I can't recommend it enough and I hope that if you haven't been - no matter what you do, you go. 
IN OTHER NEWS
Our crowdfunding campaign is rocking and rolling along! If you have not donated already and would like to, please head on over to the campaign page and find a perk that works for you! We look forward to having you on board!
CLICK HERE TO CONTRIBUTE TO ALBUM NUMBER 2!
I hope that your week is a good one and that you find all that you are seeking!
L'shalom
Joe Buchanan